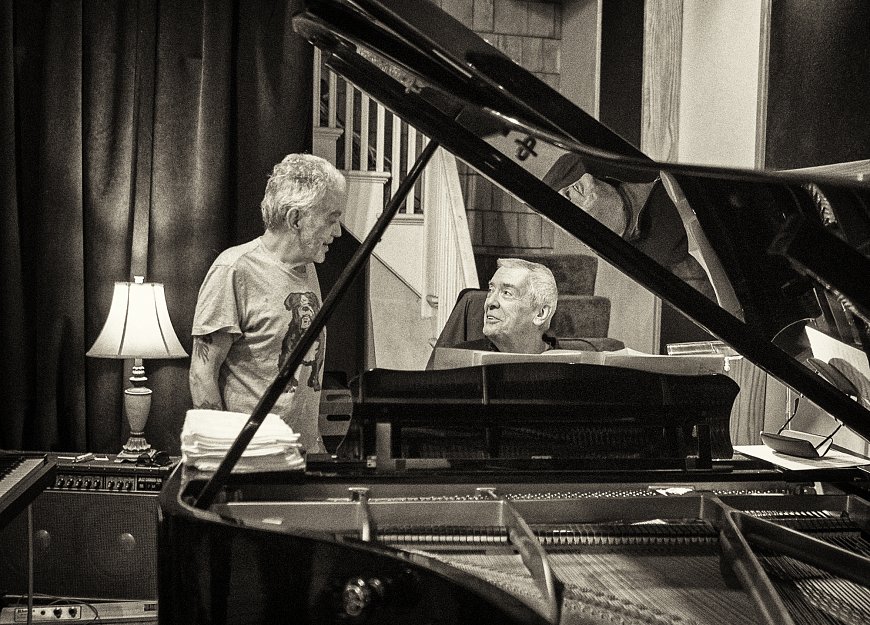 I was honored to hear I was to be inducted this year into the Rochester Music Hall of Fame. And my old friend Steve Gadd was also among the inductees, so it promised to be a wonderful re-connection in many ways.
There was more than the ceremony and concert - I went to Rochester a few days early to do some radio and tv interviews, and of course to visit with friends (from way back in the 60's, when I went to school there.)
The others being honored are, aside from Steve, John Beck, the Campbell Brothers and Ferdinand Jay Smith. Steve, a world renowned drummer, was at the Eastman Music School the same years I was - what a lucky break for me, since I got to play with him those years and on many albums and tours since then.
One of the first stops; at the Brother Wease radio show - I've visited before, but it's always a hoot.
Phillip and Chuck from the Campbell Brothers are doing the rounds with us. Here's Chuck with Steve and me.
Some relaxing in breaks between the many radio and tv appearances. I'd hoped to get a shot of Steve with John Beck, his percussion teacher from even before he went to Eastman. A lot of respect there.
They found time to get to the percussion room and jam a little…
All day Saturday was set aside to rehearse. Steve and I had asked our old band L'Image to come up from NY to join us for the concert. Luckily Mike, Warren and David were free.
We go way back… which seems to be the theme this week!
For us it's not a matter of remembering our songs, it's choosing which ones… and how to fit them into only a half hour set.
I dug up a picture of us at Warren's house from a few years back. As you can see, we always have fun together.
Now it's Sunday, time for soundcheck. And on shows with a lot of bands, soundchecks usually run behind, so I'm expecting to spend the day here at the historic Eastman Theater.
Came in to find John Beck doing his soundcheck. He'll play a solo timpani sonata, but also do "Sing Sing Sing" with a full band.
I'm reminded that this is the stage where I played concerts with the Rochester Philharmonic. And, memorably, Igor Stravinsky came here in the 60's, to guest conduct our school orchestra. Some memories from here, indeed.
I'm digging through my hard drives to find some picture of King Crimson's show right here last year. I was reminded of that when one of the Music Hall of Fame people, Tracy, was wearing a very familiar shirt…
Turns out she was helping with the production of that Crimson show.
The Campbell Brothers soundcheck after us, and sound great… and they'll be joined for a few numbers by a guest steel guitar player, the great Robert Randolph.
This page is getting pretty long, so I'll start another for the show itself, and that included a surprise visit from Paul Simon!
Here's a link to the next Diary Page: The Concert