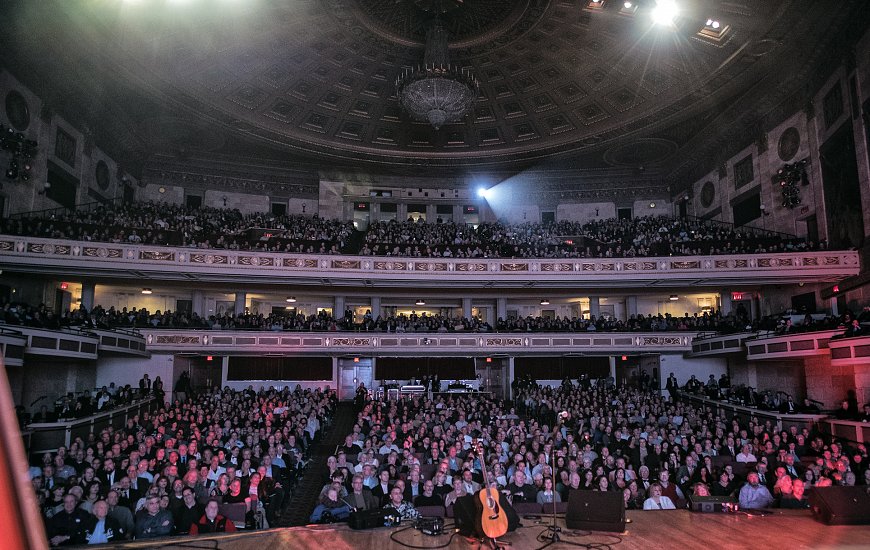 After soundcheck we dressed up a bit, and went to a cocktail party for the organization and previous inductees.
How great to see my old friends Gap and Chuck Mangione. (And that's Steve's brother Eddie in the back.)
My first record session, way back when, was with Gap - and Steve was on it too. In fact, we realized today that that was when we first met Mike Mainieri, whom we'd play with years later. And we had a great time touring with Chuck - in fact he took me on my first trip to Europe.
Back at the Theater, people are realizing that Paul Simon has come to Rochester to do a few songs in the show, though he wasn't advertised as part of the show. Very kind of him - Steve and I played in his band in the 70's and early 80's - Steve for much longer… in fact many of the radio interviewers were still asking Steve about his drum part on '50 Ways to Leave Your Lover'.
Anyway, that's going to be a great addition to the show.
Our band has one of the many dressing rooms upstairs. No reason not to relax… it's going to be way over a 3 hour show.
John Beck receiving his award:
After some music groups, Ferdinand Jay Smith's award, and an intermission, it was my turn… a bit out of my usual experiences, but I wasn't too too nervous.
A surprise for me, though… Peter Gabriel had recorded a video to be part of the presentation ceremony.
It was great… very complimentary and also humorous and a bit embarassing (which I'm sure Peter intended - as he said, we've been together since dinosaurs roamed the earth.)
Watched that from backstage, then came out to be inducted and give a little speech.
I'm going to mix in a few photos provided to me by the Rochester Music Hall of Fame - for obvious reasons.
Next was Steve watching his intro video backstage…
And then it's time for our songs with Mike, Warren and David.
I did not take those last photos… but did grab one of Steve from my point of view
Next, wow, Paul came out onstage to the surprise of the audience - a great moment.
I can't resist digging up a couple of my pictures from the same position behind Paul in… must be 1979 or 1980.
Hey, there was no internet then - it's about time I shared the pictures! (And, for those interested in it, back then I had the camera on a tripod behind me, with a foot switch to take the pictures - and sometimes include me in them.)
Back to the present day, Paul did a wonderful talk about the studio session where Steve come up with the '50 Ways' part.
And then we played it.
Followed by his mentioning my part on 'Late in the Evening" and we played that, joined by the wonderful horn section that has done most of the show tonight.
There was still the Campbell Brothers set to come, and you can be sure I wanted to catch that - and from the audience seats.
Was backstage again when Robert Randolph danced out to join them.
And, you guessed it, at the end Steve and I joined them all on stage for a final number: Purple Haze.
A very special, very memorable night for me. If being inducted to the Rochester Music Hall of Fame weren't enough, the re-connection with my Rochester friends, the kindness of all those who contributed to this show, and the wonderful music made tonight… well it was super.
I grabbed a final picture of Paul, Robert and Steve as we were packing up.
The aftermath was short… I had early morning flights to go to England, where King Crimson rehearsals are starting (and where I'm uploading this diary from).
So I can say there will be 'more soon' on my Road Diary, but this night in Rochester… this was one of a kind.