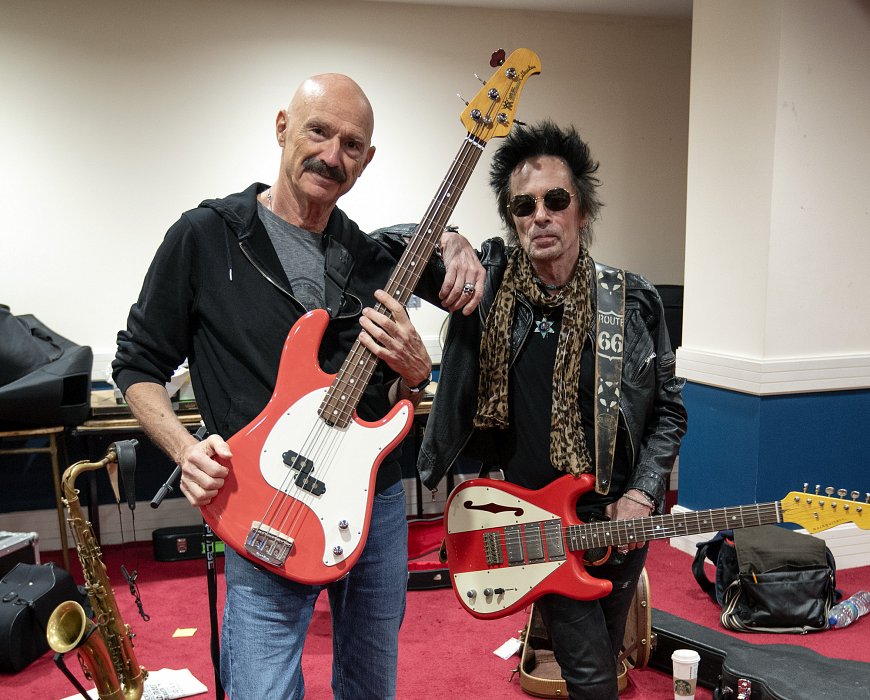 This year the International BeatleWeek Festival, in Liverpool, has asked some of us who played on the 1980 John Lennon Yoko Ono sessions to come in and do a show of the material from Double Fantasy and Milk and Honey.
Picture above is of Earl Slick and me, surprised to find we'd both brought our red axes. Mine is my coral red Cutlass MusicMan 4 string, Earl's is his Dakota Red Nash guitar.
Drummer Andy Newmark is also here for the event, and it'll have been, let's see… 42 years since the three of us played together, so it's about time. And to perform the pieces, they've put together a great group of musicians to make it a full band. I'll introduce them below.
Liverpool is full of people this week, and amazingly full of Beatles music, references, street names, and clubs famous for the band having been there.
Actually we were planning to do this concert two years ago, but the Festival had to pause, and it's great to finally be here for it.
Mark McGann will be doing the heavy lifting, singing most of the songs
Barney Taylor on keys and bvox
Our first rehearsal is in the basement of the famous huge Adelphi Hotel, where the festival is based, and where a lot of fans are located - so we're pretty glad to be staying elsewhere.
(And, let me tell you, the winding basement corridors leading in all directions were very easy to get lost in… the Shining came to mind! So after getting lost on my first venture to find a rest room, I waited to join someone more familiar with the place before leaving our rehearsal room again.)
The Argentinian singer Estef Figueroa will be doing some of the Yoko songs, in her own style. She was at the rehearsal but I neglected to get her picture. Will do that tomorrow.
It was pretty wild today, playing these pieces live for our first time. We decided to pretty much stick to the versions that were on the albums, but many of them had fadeouts, so devising endings took most of our time. And, of course… will we remember those endings at the show tomorrow?
Took the night off, tried to get the jet lag in hand. I did some walking around town, but it's awfully crowded, with music blasting everywhere.
---
On Friday 1pm we arrived at the Liverpool Philharmonic Hall, for a sound check, but, yeah, we'll do some more rehearsing.
It's a lovely venue – I'm reminded of how different it is than the Empire Theater, a very old Liverpool venue where I played with King Crimson my last time here, and with Peter Gabriel way back in 1977, my first show here. This is my first time at the Philharmonic Hall
Between some of the songs there are going to be audio clips being played of John talking about how the pieces came about. They'll be accompanied by pictures on the screen behind us. I'd better take a peek now, so I won't be staring at it during the show.
After we got the sounds right, some more rehearsing was needed for sure.
Had a little time to get back to the hotel, change, and come back to the venue.
Then, ready to go on
and, right after the show, a shot of all the players who made it happen
Credit to Festival photographer Stuart Homer, who took this with my camera
It was a memorable show for all of us, and hopefully for the audience too.
I'm here for a couple more days, with an interview and signing on Sunday, so, as a kind of coda to the page, I'll add a couple of pictures I took the night after our show, when I went to the same venue to see the excellent Swedish band, Pepperland
Wow, Mathias, the bass player, is playing the same model bass that I did - a MusicMan Cutlass. And, it's also coral red.
What an amazing coincidence.
Or, hmm… maybe not.