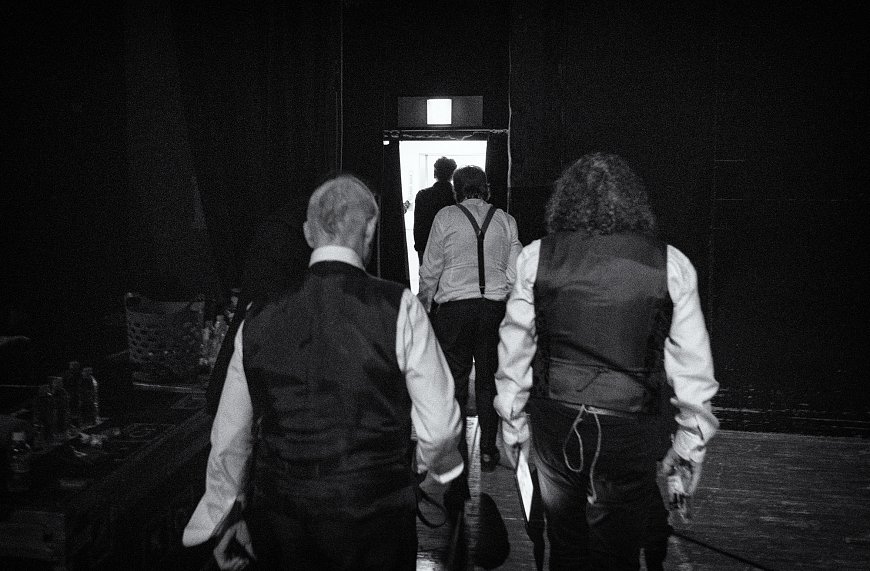 It's the second night at Bunkamura Orchard Hall. Tonight is the final concert of the tour, and quite possibly the final King Crimson concert.
Before soundcheck I got a better shot of the venue.
And we gathered together for a group photo - the band, our crew, and the wonderful people with the Creativeman crew, the promotors who have helped us so much on the tour
I can't overstate the degree of work it took for our management to make the Japan tour happen. The parameters were very complex, and changed as the tour was underway (even these last few days, when the rules for our travel back to England and U.S.A. changed.) I believe we were the first international group to tour in Japan this year, and then while we were here the new Covid strain caused Japan to close it's borders til at least January, so King Crimson is the only international group to tour in Japan in 2021.
And it a good time to mention how great our crew and production team have been. Mostly the same team for these 7 years of this incarnation of the band. Great people, all hard workers who make our shows possible. And now we're saying goodbye until the winds of fate bring us together again. Well, here's a shot of us trying to group up for that photo…. I think the appropriate term is 'herding cats'.
At some point in our shared dressing room, I thought, where has Pat gone? Looked up from my laptop and saw the in house monitor screen, and there were the three drummers onstage, speaking to the Royal Package folks.
Time to head downstairs
At the intermission, I got in the elevator with the guys, but with my panoramic camera. Looks roomy in there - it wasn't!
Okay, okay, I took a few pictures during the show. For years I've avoided doing that, and this is the last night, so… just a few, and with the panoramic camera with delay, on tripod, so not too obtrusive to the audience.
Robert often bows to the audience after the show, but this time he took a walk out to the front of stage, bowed, AND grabbed a selfie.
No words left to share about this, the last show.