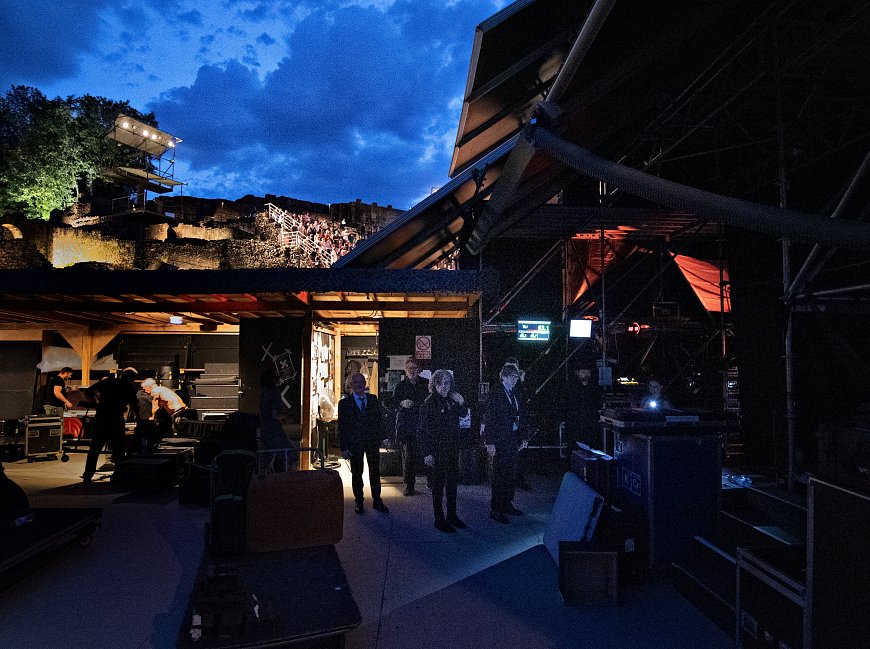 Another extroardinary venue. Ancient Roman ruins in the hills above Lyon.
This is called les Nuits de Fourviere Festival. I arrived early with the crew and got to see the stage without our setup on it yet.
There's not only our music gear to load in, there are the risers it all goes on.
I don't think those columns are going anywhere… they seem to be part of a much older structure.
The view from the seats tonight, with the city behind the stage, should be pretty great.
Meanwhile, the stage has been loaded in and is ready for soundcheck…
But… there's a power outage… maybe for this part of Lyon (there was a big storm last night) and we've got to sit around til it comes back on.
Some of us, of course, don't mind at all, as they can make plenty of noise without electricity
After quite some time we do get the power back, and run through some songs. It's getting very warm at the front of the stage where the sun is hitting… a dark curtain comes in handy
But things are far from done for the crew. We're co-billed on this show with the great French band Magma. So our risers are on wheels and now need to be pulled to the back of the stage to make room.
And a few hours later, the show began with their set
Their set finishes, and more work for our guys, pushing the risers back in place, and re checking about 90 inputs to be sure nothing's been unplugged. But this time with a time limit… the audience is waiting.
It's 10:15pm, darkness is just falling, and we're headed onstage to one of the most picturesque settings we've played.
Alas, no pictures from the show, because that's our rule. But just after, the audience sure looked good.
Can you see the blue cushions flying around? It's a tradition here to throw them to the stage during the bows.
Here are some of the pics I've edited so you can better make them out.
A great show in every way.