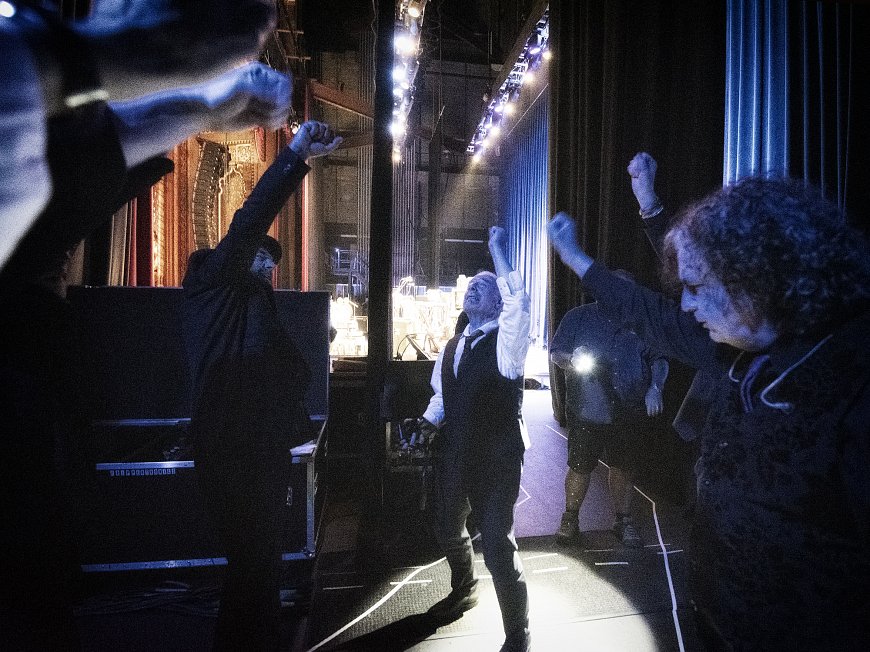 Oakland's Fox Theater is a venue with as much history as you can get.
We're very happy that our friend and bandmate Bill Rieflin has joined us for the two nights here.
No, the band fascination is not with where the stage is located… there's a setlist on that pillar, and as usual we're obsessed with it.
And, something quite unusual, at intermission, we have a double birthday celebration; Megan, who handles our merch on the tour, and Mel.
This calls for a cake.
Megan's face hints that she's thinking, "couldn't you have taken the cake out of the box??"
Okay, on to our second night at the Fox Theater. Different setlist, as always.
Wow, Fracture is back!
Dave Salt, our tour mgr, picks up my camera, as he often does, and gets a shot of me studying one of the great posters hanging here.
or, as you could call it, 'playing dice without the dice'
Wonderful shows. We're up to speed on the material now. Can't wait for more shows.
From here on it'll be single shows across the U.S. Tomorrow we travel to Denver.
More soon.