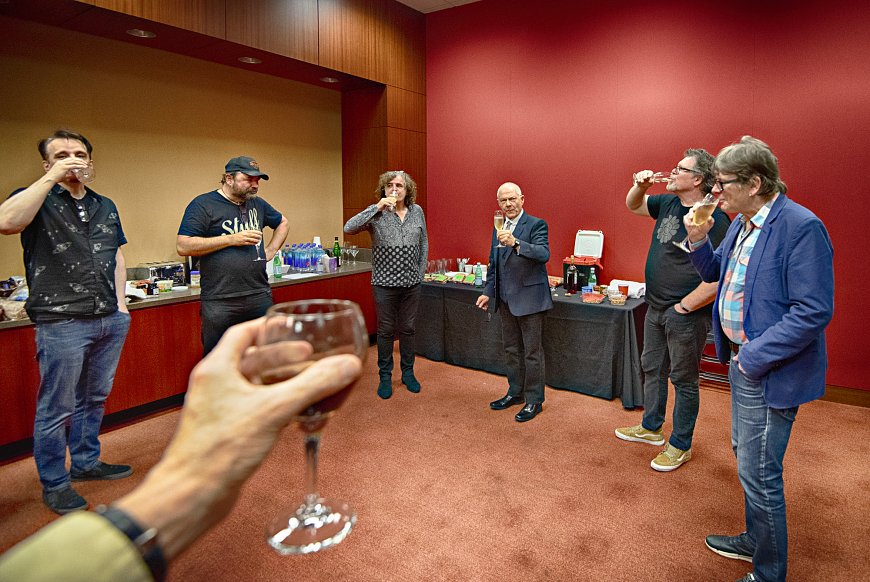 Exciting to arrive in Atlanta - this will be a historic evening. The last U.S. show of our year, and it's Crimson's first time at this venue, the Cobb Energy Performing Arts Centre - and I think that for some of our audience it will be their first time at this theater - at 12 years old it's far newer than the places we've been playing.
Atlanta has been the site of some momentous events for me personally. First on my list would be when Crimson played here in 1995. The day before our performance at the Roxy Theater, the band was taken out for dinner by the Virgin Records local promotion representative. I missed that dinner, but afterwards Bill Bruford told me I'd really like the rep. and should meet her. Her name was Andi Turco, and for the last 21 years her name has been Andi Turco-Levin, so Bill was more than right on that one!
Then there was the time that Peter Gabriel invited me to join him in Atlanta, at the UGA center for primate cognition, and we spent an afternoon making music with Panbanisha and Kanzi, two bonobo apes. Probably the most memorable jam session of my career.
Wonderful show. And now, a toast is in order.
We have a few days now to get ourselves to Sao Paulo, Brazil, where the South America part of our tour will begin.
More soon.