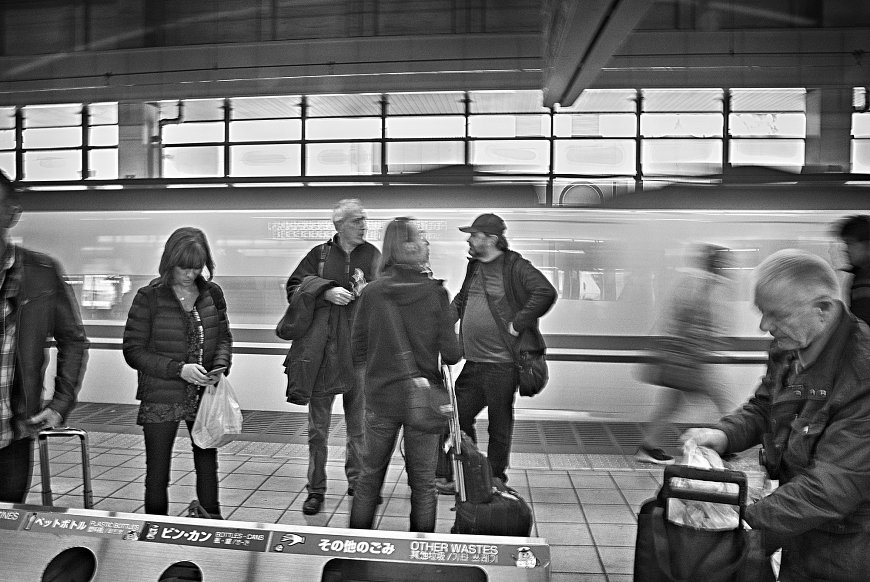 We're on the move!
Our first bullet train trip of the tour - from Sendai to Kanazawa (two trains, actually)
Really this road diary entry should be a few separate pages - after arriving in Kanazawa…
… we had the next day completely free.
I headed for the castle and gardens to take pictures. It was as lovely as advertised. I let the large sights go, and found some nice little nooks.
In the evening I met with some long time friends who live here, and they gave me a gift, made by the Stick playing artist, Ussey.
It's a mask, and a pretty distinctive one, to be sure! - I went right to my room and took a picture in the mirror:
(Notice the bass clef!)
On to our show at the Hondano Mori Hall. It's King Crimson's first time in Kanazawa, so we don't expect a full house tonight (hopefully next time, though!)
It was no surprise that my new mask was quite a hit backstage. Dave took my camera right away to get some a shot of me with it.
Otherwise things were pretty normal, preparing for the show.
An excellent show. King Crimson's first time in Kanazawa.
Here's the audience:
Whew, that was a considerable road diary update… trains, gardens, and a show.
I want to mention that my Kanazawa friends have for years been translating my web page to Japanese. If you're interested in following that, the link is: Here
Okay, tomorrow another train trip, and then two shows in Osaka. More soon.