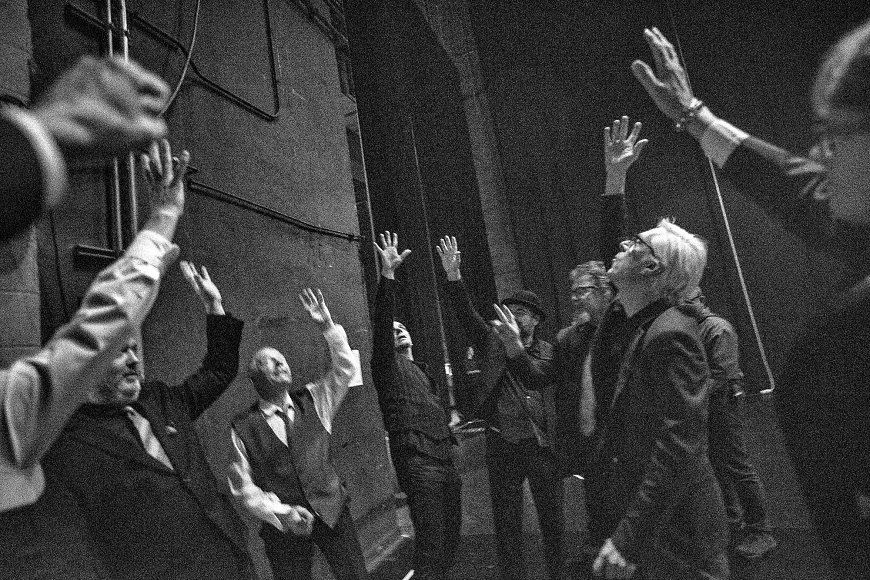 What other bands call a dress rehearsal, we call a Friends & Family show. For each tour leg we try to book a full private show in the same venue we'll start in, to be sure the sound, the playing, and everything else is working well.
So, in preparation for tomorrow's official first show, tonight was the F&F show. And it had a lot of Crimson firsts!
The photo above has 9 Crims raising their hands just before we go on - though Bill Rieflin is just here through the week, showing his parts to Chris Gibson, who'll play the rest of the tour leg, it's great having them both kick it off backstage.
It's got the band name on it, and was one of the merch items on our Japan tour back in 1984. Probably the first time I've worn it!
For those who haven't seen a Crimson show in the last few years, we ask the audience not to take pictures or videos during the show – so I need to behave the same! I'll take some pictures of the audience at the end of the show, which is their cue that they can take theirs.
Meanwhile, there is the intermission backstage.
And, back in the dressing room, I know now why I hadn't worn this tie before. It's really short!
Great fun tonight, and a good warmup for the shows to come.
More soon.