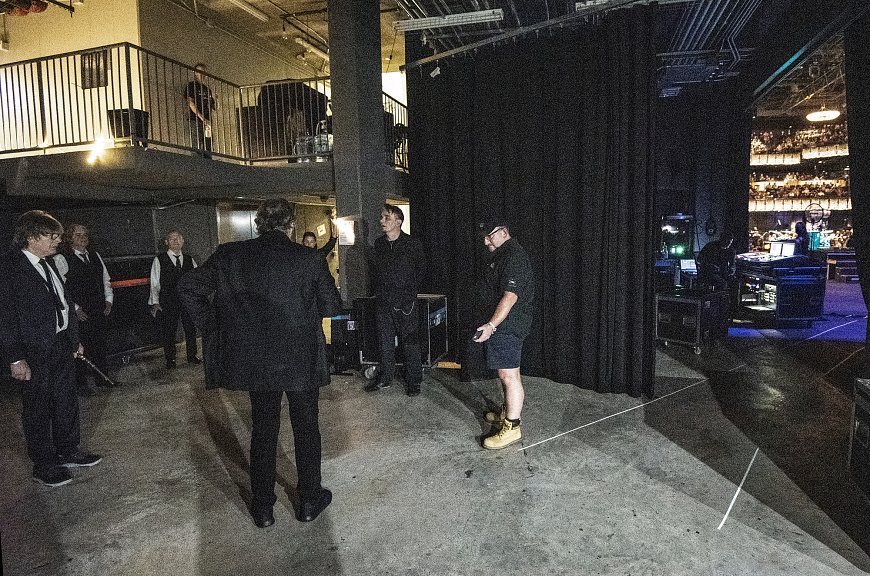 Beginnings and endings. We're here at The Anthem, in Washington D.C. a venue we haven't played at before, and we find it's a very nice one. Tonight being the last show of the U.S. tour, and I'm told likely the last U.S. Crimson will do… it's a pretty special concert.
Some goodbyes to the folks who've been together since early July on this tour. We'll see our crew again, in the November Japan tour leg, but not the truck and bus drivers. Everyone worked hard to make this tour the successful, safe, one that it was.
Backstage, old school: a unique poster for this event. Reminds me of the Bill Graham days.
Even after all these shows, we're still obsessed with studying the setlist before we go on.
A night with a lot of emotion. I did tear up a bit during "Starless"… to me that haunting guitar melody at the front, combined with the brutal middle section exemplify the range of what Crimson can do, and I was swept up in how special it's been to be part of bringing that to audiences in this, my home country, for these many years.
Noticing the lady in yellow, I'm reminded what a wonderful character each audience has, and how important our audiences are to us. For this years shows, more than ever, coming to a concert has involved a lot of effort, expense, and decisions on safety - it makes me appreciate even more the great folks who make it on the night. This music is a gift for us to share, players and audience, and really is a product of us together.
Aftershow, a toast, a bit of a chat, Robert saying that after 52 years of Crimson shows in the U.S. if this had to be the last it was a worthy one.
I was so whomped from this show, I didn't take out my camera for the toast - not like me! But ever on the watch, Dave Salt picked it up and got a shot.
Now, after going everywhere together, we'll all head in different directions. I may fashion another tour page, a 'summary' one, with some pics that weren't used. But usually once home, other things beckon (I think it's called 'life') that leave you less hours for web diaries.
However, whether it's that summary page, or the first from Japan, or something else that comes up, I'd still like to leave you with …
"more soon."